How to Create Online Staff Directory in WordPress Using Contact List Pro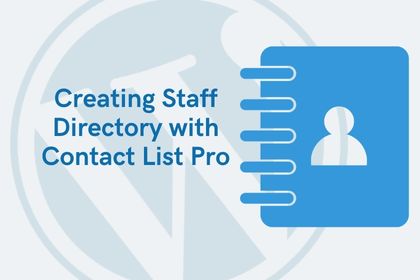 Directory is an important part of a business website on WordPress. It greatly helps to list and store information that might be interesting for your site visitors to search. Moreover, it assists the users in browsing the service providers mentioned in a certain category or niche. For business owners, it is a great way to obtain new customers.
In the case of online businesses, the customers usually do not communicate with the staff standing behind the provided services. So, the staff directory is a great way to present your team members and employees in a certain list enabling your customers to get familiar with them, as well as gain the clients' trust toward your business. So, this type of business directory aims to bridge the gap between online service providers and users.
If you use WordPress, then creating a great staff directory is not so complicated. This is because WordPress suggests an easy staff directory presenting process through plugins. And in this article, we have handpicked a great multipurpose directory plugin called Contact List Pro.
Keep reading the article to know how to create an online staff directory using the Contact List Pro plugin.
Main Benefits of Online Staff Directories
Besides being a good way for users to reveal the company's employees staff directories are also used as a great internal communication tool. Staff directory allows quick collaboration between the company's employees regardless of their location. This cooperation highly depends on internal communication which enables a rapid process of completing different tasks or even difficult projects. Many companies really need to use the power of human communication and cooperation.
So, the main benefits of online staff directories are improved internal and external communication both with customers and coworkers.
In the next paragraph, we are going to present one of the feature-rich plugins to create an online staff directory on WordPress.
Contact List Pro – Main Features

The Contact List Pro plugin is a great tool to list any kind of contacts easily. It offers an easy method to create the following types of directories:
Address book
Staff directory
Contact directory
Member directory
Online directory
Phonebook
Medical, Church, and Faculty directories
Business directory
Yellow pages, etc.
The main benefits of the Contact List Pro plugin are enabling to conduct a fast search, use custom filters and fields, import and export Excel and CSV files, reCAPTCHA protection with an "I'm not a robot" checkbox, and other valuable features. You are also able to send emails to contacts through the default form in the front end. This eases the communication process enabling to contact the listed staff members without using any third-party add-ons.
Moreover, you do not have to be worried about the confidentiality of the added contact information as the plugin strongly keeps it. As well as it completes all the needed steps to prevent spammy emails.
Even though the plugin has a highly functioned free version that can be used by any user of WordPress its developers provide an advanced Pro version. There are certain features available only in the plugin's paid version:
Contacts and contact information modification by different user roles via contact editor
Contact requests notifying to make changes and updates in the already existing contact information
Easy shortcode usage
Pagination and single contact pages
Lightbox demonstration of the contacts
Showing contacts in the site search results
Sending bulk email messages to all contact in all groups simultaneously
WYSIWYG editor, etc.
You have an opportunity to not only add your desired fields to the directory but also hide the existing ones.
Pricing
If you decided to continue with the Contact List Pro plugin then you should know about a 7-day free trial period before its activation. As well as there is a 30-day money-back guarantee in case the plugin does not suit your needs.
Here is the pricing for activating the Contact List Pro plugin:
Personal – $59.99
Professional – $79.99
Business – $99.99
With one of the activated plans, you will be able to enjoy the fast-replying professional customer support service. Also, the packages include automatic updates and news in case you continue the annual subscription.
How to Create Online Staff Directory Using Contact List Pro Plugin
The Contact List Pro plugin is a user-friendly and easy tool to create an online staff directory on your website. Highly customizable fields as well as custom fields will make the process even quicker than you might think.
So, in order to create an online staff directory you need to follow the steps described below.
Step 1
Enter the "Contact List Pro" section from your WordPress Admin Dashboard.

Then click the "Add New" button to create a new card for a certain member of your staff.
Step 2
Fill in the empty boxes to mention the needed contact information about your employee. The corresponding boxes should contain the following personal information:
First name
Last name
Job title
Phone numbers with 3 different variants available
Email address and the one you want to get notifications with
Social Media accounts (Facebook, Twitter, Linkedin, Instagram)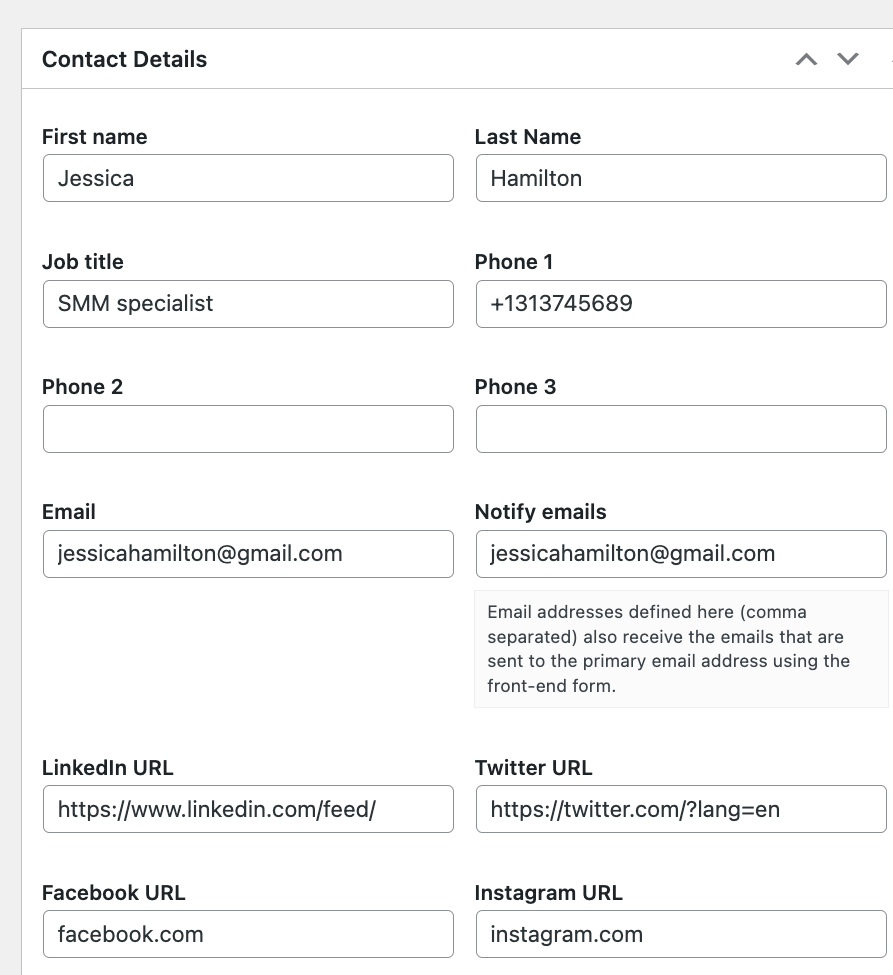 Address and Address lines (4 variants available)
6 custom fields
Additional information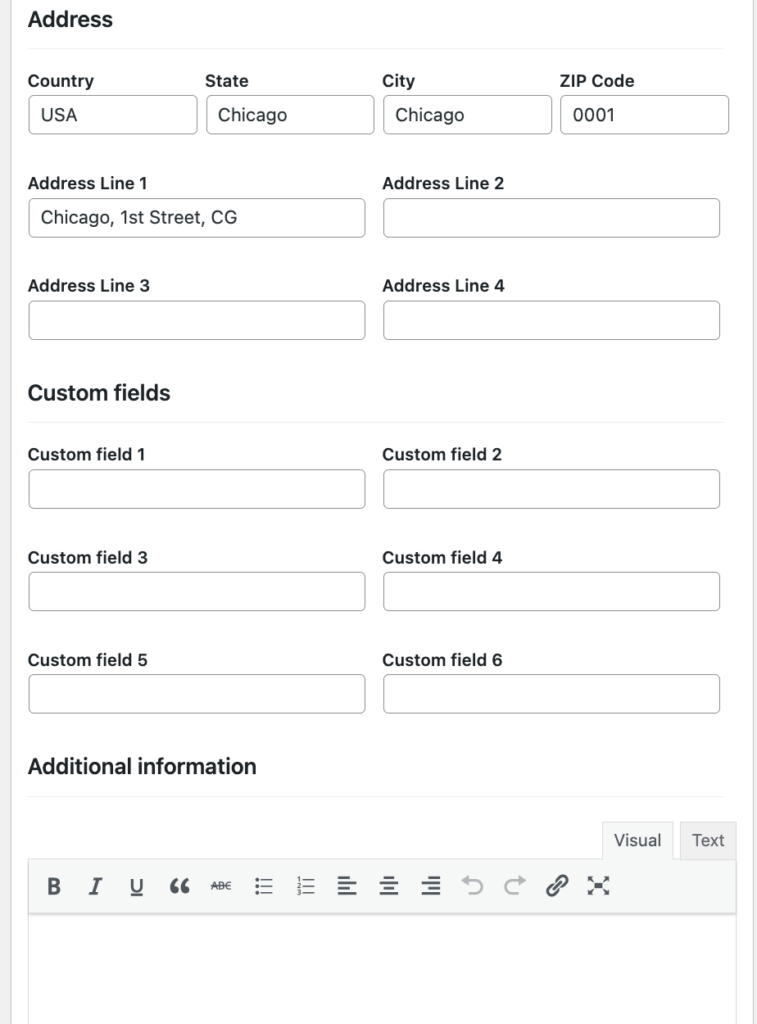 Also, you are able to put a featured image for each of the employee cards and place them in the groups available.
Step 3
You should repeat the same process by filling in the available boxes for each member of your staff.
After that, you should "Publish" the created contact. Then you have to copy the shortcode and put it into the newly created or existing "Page" or "Post".
Simple and fast process of creating an employee directory- that is what the Contact List Pro plugin offers to all users.
Below you may notice the online staff directory, which is highly responsive and user-friendly. As you see, it is a matter of a few clicks to create a great online directory on WordPress using the Contact List Pro plugin.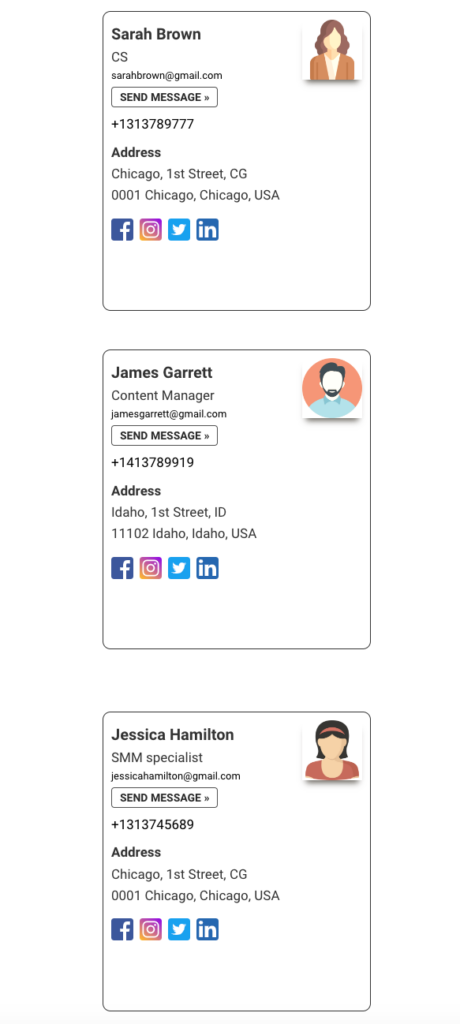 Contact List Settings
There is a bunch of settings to customize when making a unique employee directory. The list includes:
General settings including sorting, pagination, and other features.
Layout containing card configuration settings such as card height, background, border identifiers, as well as contact image size, style, etc.
reCAPTCHA and email
Search form settings
Custom fields with corresponding icons available
Field titles and texts which are changeable
Hide/show form elements
Contact edit settings that determine the user roles that are able to edit the submitted contacts
Custom post type
To Wrap Things Up
So, in this article, we have revealed the importance of staff directories for every online business to improve internal communication and external cooperation.
If you run an online business that has a website on WordPress, then creating an employee directory is fast and easy due to a highly functional plugin – Contact List Pro. It is a comprehensive solution no matter whether you decided to create address books, phone books, simple contact lists, or staff directories. Contact List Pro is a must-have plugin on your WordPress site offering both free and pro versions with more advanced features available. Using the Contact List Pro plugin will help you manage your employee's contacts in an organized staff directory.
You can easily benefit from this plugin even if you do not have technical and programming skills. The design is very user-friendly and simple for any kind of user.