How To Categorize Contact List For Easy Search?
Categories are a great way to group related contacts together in your WordPress Contact Directory. For example, you might want to create categories for contacts living in a certain country or having the same job title.
Categorizing the Contact list not only keeps it organized but also helps visitors to search and find what they are looking for with ease.
When using WordPress you get a default feature to categorize your posts and pages. Yet, to create and categorize a contact list you should activate a great directory plugin. So, in this case, you will get a comprehensive solution by activating the Contact List Directory Plugin.
Now let's learn how to categorize contact list for easy search.
What are the Benefits of Contact Categories on WordPress?
People use to categorize every single thing in their everyday life in order to learn, remember, and find them with ease. So, when meeting a person and especially a big group of people, we always try to put them into various groups to better remember them afterward.
So, the same works in the case of online platforms. When dealing with a big number of people in a contact list it is important to create categories to ease the contact storing process and search them without passing through all contacts every single time.
The contact list categories may vary according to the information you use to include in each of them. So, you can group your contacts by country, job title, state, city, etc. No matter what group you choose, categorizing a WordPress contact directory is beneficial not only for the business owner but also for custom visitors on your website.
Luckily, grouping contacts with the WordPress Contact List plugin is very easy. In the next paragraphs, you will meet all the needed steps to categorize contacts for easy search.
WordPress Contact List Plugin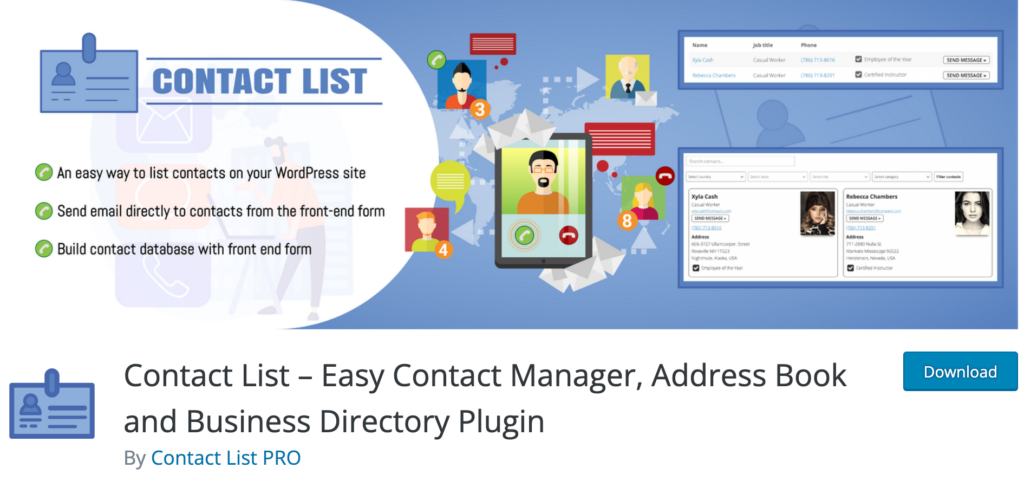 Completing contact categorization into small or big groups is a free feature offered by the WordPress Contact List plugin. So, this is a great opportunity for the free plan users to build not only an exciting contact directory but also make them highly searchable.
Along with the contact categorization, the plugin allows searching with filters, such as country, city, state, category, and even job title. The automatically generated country and state dropdowns are based on the implemented directory data. Also, you can add other filters according to your needs.
These features make the contact searching process hassle-free. Moreover, you can view the contact not only in the directory but also in the site search results.
In the plugin's "Settings", you can sort contacts to be displayed based on the First/ Last names, as well as your added custom fields.
Even you are able to customize the "Search contacts", "Search all contacts", and "Search results" sections' values for a better user experience.
And all of these features are available absolutely for free. So, you only need to activate the plugin by following the below-mentioned steps:
Enter the Plugins' Directory from your WP Admin Dashboard.
Type the name of the plugin in the Search bar.
Install and activate the plugin.
How to Categorize Contact List for Easy Search?
So, in order to categorize your contact list, first you have to put contacts into big or small groups.
Thus, let's start from the beginning by creating a group, and assigning it to a certain existing contact.
For this, you should enter the "Groups" section from the Contact List plugin's submenu.

By entering this section, you need to fill in the required empty boxes to create a "New Group":
Name – that will appear on your site, as well as you will complete the search process with it.
Slug – that is the name's URL version containing only lowercases, and numbers which are separated with hyphens.
Parent group – these are big groups helping to create a group hierarchy on your website.
Description – to give some information about the group.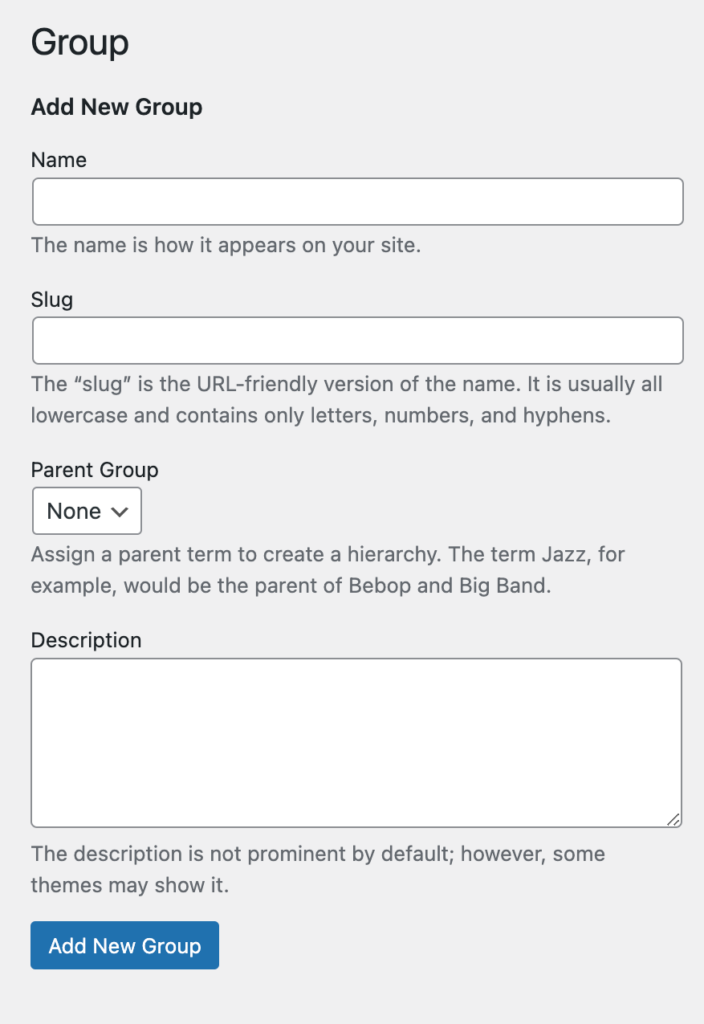 Then you need to press the "Add New Group" button to finish the group-creating process.
In order to assign the created group to a certain contact you should enter one of the desired existing contacts from the directory. Then in the "Group" section, you need to find the existing group and assign it to your post. If the contact was already published, you just need to "Update" it to confirm the group-assigning process.
Let's Search the Contacts by the Added Groups
You can search the contacts in the front end by typing the group name in the search bar. After that, all the contacts that were included in that group will appear in the search results.
Here you can type other filters such as country, state name, job title, and whatever you included in the searched contact's data.

So, the Contact List plugin enables you to make your contact searching process quick and simple.
Other Features Related to the "Search" Function
The plugin gives the user opportunity to customize the Search bar values with alternative texts and titles. So, with this function that is available in the "Settings"- "Field titles and texts" section, you can find the following components to define a custom text:
Search contacts
Search all contacts
Search results
Found search results
Not found search results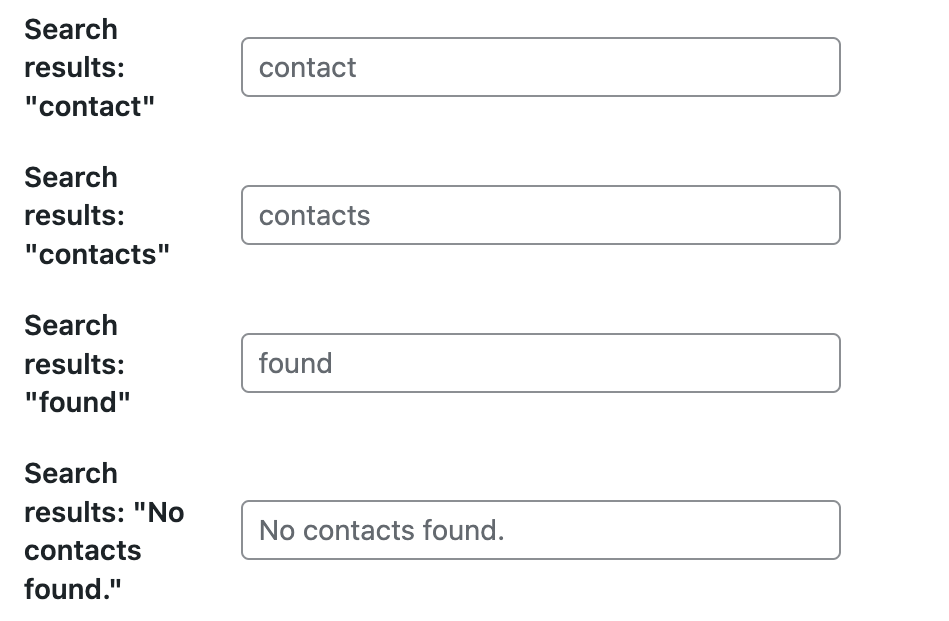 This function helps business owners to have a personalized approach when using the Contact List plugin to build their contact directory.
To Wrap Things Up…
Having an organized website is beneficial not only for your business but also for the users who visit it every day. Taking into account many advantages of contact lists or directories on the website it is essential to think about organizing them. In this case, you can group them into different categories and display them for your and other users' easy search.
In this article, we have discussed how to categorize a contact list with the Contact List plugin. The group-making and categorizing features are available in the free version so that any user of this plugin can highly organize and create a user-friendly contact directory on the website. Not only can you group your contacts and categorize them but you can also set different filters that will help you to search the contact data quicker.