How to Build a Business Contact List on WordPress?
Business contact lists are an integral part of any company and its marketing team. Business contact lists help to correctly target customers to reach the company's growth and success. They help business owners to always have the partners' contact details and the most essential information in hand, and use them for marketing campaigns or promo actions. And if you use WordPress CMS then building these lists is quite easy. Especially, the process is simple with a great contact manager plugin called Contact List Pro.
Keep reading the article to understand how to build a business contact list on WordPress without hassles.
Why Should You Build a Business Contact List on WordPress?
Business contacts that you make during official meetings are the logical continuation of the cooperation in the future. Those companies can be not only the backbone of B2B networking but also become the biggest investors, customers, and connections of your business. So, putting the gathered contact information into a business contact list can be of high importance to always have them in hand when you need them. This is a key action to approve your B2B partners and customer retention which in its turn leads to new connections and accordingly business growth.
But how can you use the collected business contacts? So, having a comprehensive business contact list gives you an alternative B2B information database to use in your marketing campaigns, run specials, competitions, giveaways, create coupons and discount cards, etc. In other words, business contact lists can be highly used in your company's promotional activities.
The contact information may contain the company's name, phone number, email address, physical address, etc. Whatever you need to use in the future cooperation or a promo action you plan. So, building a business contact list is very comfortable in B2B networking and partnership. Especially, when your business lives a hard time you can highly benefit from the contact list by looking at your current and past business partners, finding out the needed contact details, and trying to engage potential cooperating sides with SMS or Email Marketing campaigns. Thus, this will make business owners sure that the generated leads can turn into real and loyal customers due to effective and correctly conducted strategies.
So, comprehensive business contact lists are vital assets for almost any company. Having organized B2B lists that carry always updated information and are reliable has a critical impact on the company's growth.
How to Build a Business Contact List on WordPress?
As we discussed the most important features of business contact lists it is time to understand how to implement them on your WordPress site from scratch. It is not a secret that WordPress is one of the beginner-friendly Content Management Systems with plenty of plugins to use for this or that purpose. So is in the case of building business contact lists. It is extremely easy if you activate and use the Contact List Pro plugin.
Thus, in the next paragraph, we are going to reveal the plugin's most important features and build a sample contact list with it.
Main Features of the Contact List Pro Plugin
WordPress Contact List is a unique and all-in-one directory plugin for WordPress users. It comes in 2 versions – free and pro.
You can find the plugin's free version on WordPress Plugins' Repository scoring a 5-star rating. For those who seek to find the more advanced version, Contact List Pro is a great choice. It is available at affordable prices:
Personal – $59.99
Professional – $79.99
Business – $99.99
If you are uncertain of activating one of the pro plans, then you are able to get a 7-day free trial opportunity to check the available settings.
With this plugin, you can build any type of business contact list, staff list, online address book, etc. Moreover, you will enjoy the fast searching, filtering, and contact import/ export features, as well as sending messages from the front end, reCAPTCHA, and adding custom fields for your choice.
So, this contact list plugin not only enables you to easily set your B2B leads lists but also to be in touch with them directly from the front end through the email messaging option. This is a vital solution leading to new cooperations and accordingly to the business growth which is an initial purpose of using business contact lists.
WordPress Contact List Pro Plugin's Settings
Building a business contact directory with the Contact List Pro plugin is a matter of a few minutes thanks to the plugin's comprehensive feature list. As a business owner, you can fully enjoy the opportunity to add to your new business contact as many fields as you wish in addition to default ones, such as:
Name
Address
Email Address
Phone Number
Social Media URLs, etc.
Most importantly, you can categorize your business contacts based on the field of operation or other factors to find them easily. One more feature connected to contact categorization is contact filtering. This allows you to add filters to your B2B contacts based on, for instance, the business operation location.
Also, the plugin enables you to view contacts in 2 different ways as a list or as a table, as well as set the overall look for your business contact directory.
Building a Business Contact List with the WordPress Contact List Pro Plugin
As you are more or less familiar with the plugin's capabilities it is time to make a sample business contact directory to show the Contact List Pro's functionality on an example.
To make an attractive business contact list you should fulfill the following steps one after another.
Step 1
After activating the Contact List Pro plugin on your website you need to move forward to create an organized "Contact Group". You have to find the "Groups" section, type the name, slug, and description for your new group and press the "Add New Group" button.
Just a few clicks and your Business Contact List's separate group is ready.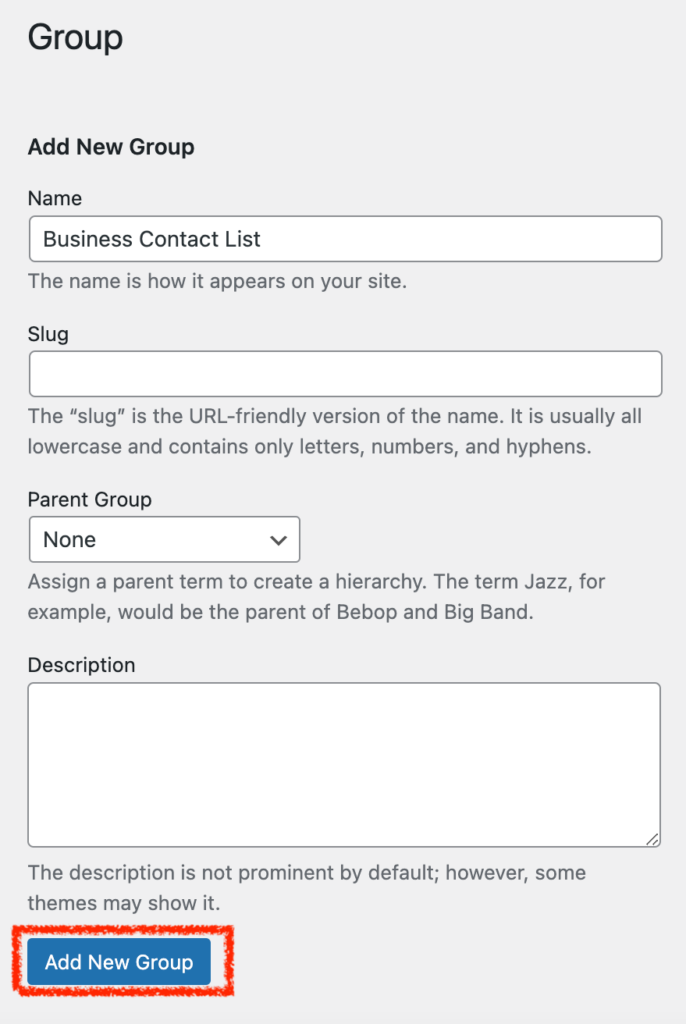 Step 2
Next, you must fill in the newly created group with contacts to create the directory. For this, you need to enter the "Add New" section and type the essential contact information you have gained before. This may include:
A business or a company name
Field of operation (job title)
Phone number with 3 options
Email address for connections and notifications (separately)
Social Network URLs (LinkedIn, Twitter, Facebook, and Instagram)
Physical Address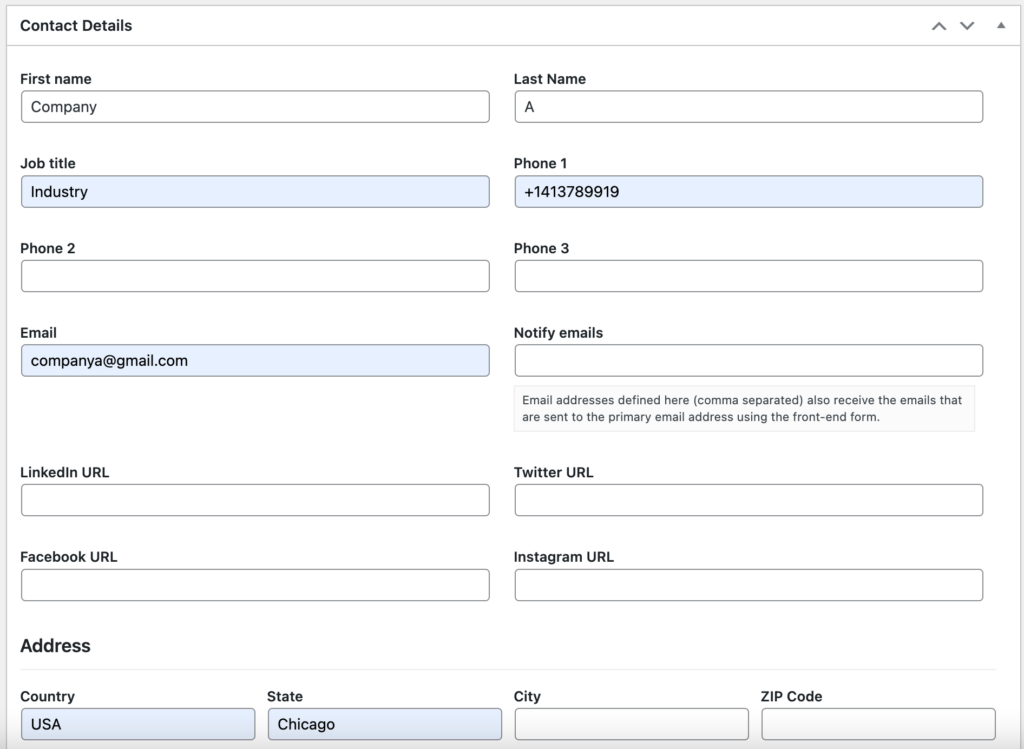 Custom Fields and information that you like to highlight about a certain contact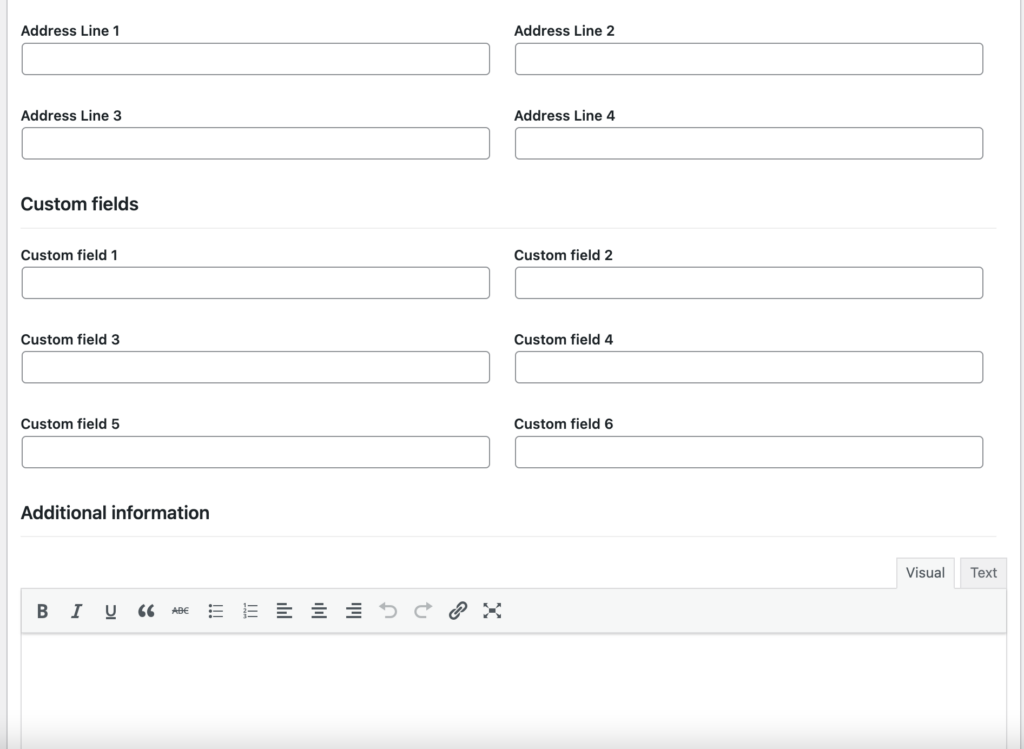 Step 3
After completing the above-mentioned steps, it is time to put the created contact in a group. You can find the available group from the right side of the page.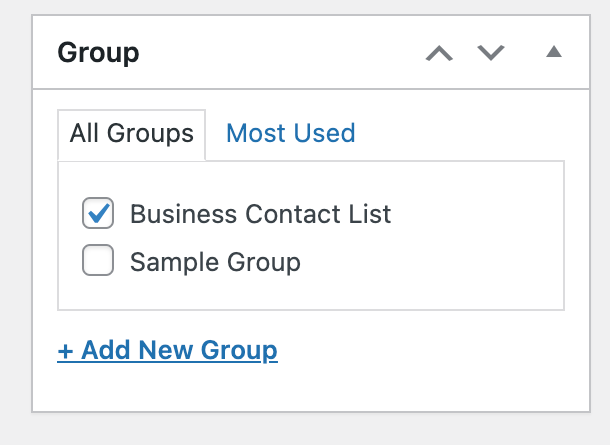 This is the final step to publishing your business contact.

Step 4
If you published the needed quantity of contacts then it is time to put them on your website page or post according to your preferences.
Here you should copy the contact's shortcode and paste it on the newly created or already existing page or post.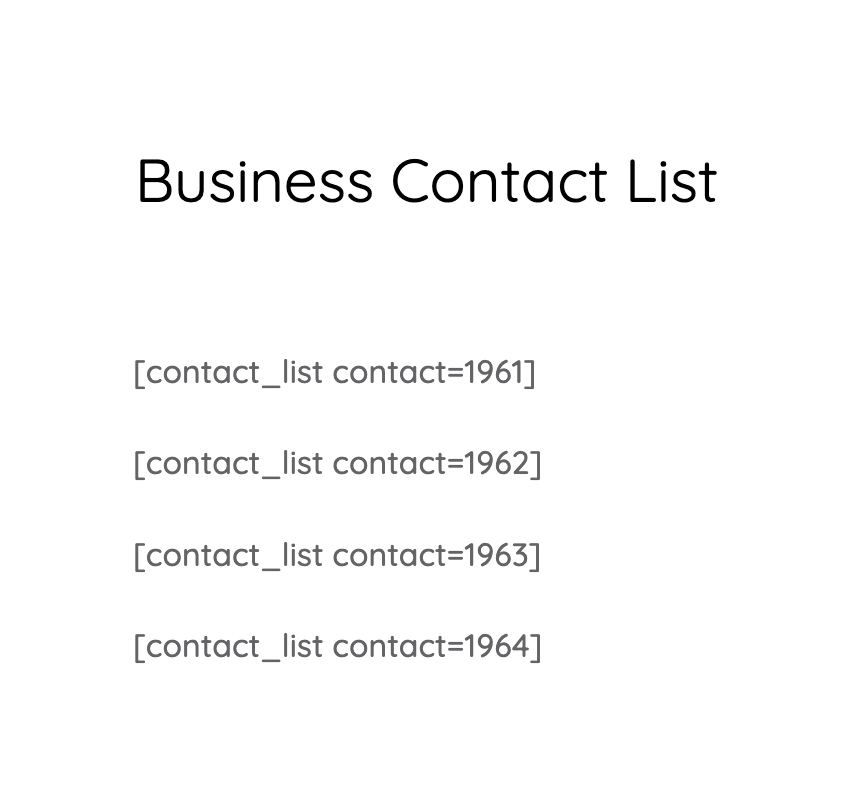 After publishing the post, you will see the business contact directory live on your WordPress site.

Alternatively, if you have a ready-made contact list, then it will be very quick to import it to your business contact listing through this plugin.
As you noticed using the WordPress Contact List Pro plugin does not oblige you to have coding skills. It is enough to have the crucial contact details. Based on the filled information the plugin will do the work for you by adding a unique business contact directory to your site.
Also, if you like to make changes to the contact cards then you need to enter the "Layout" section from the Contact List's "Settings".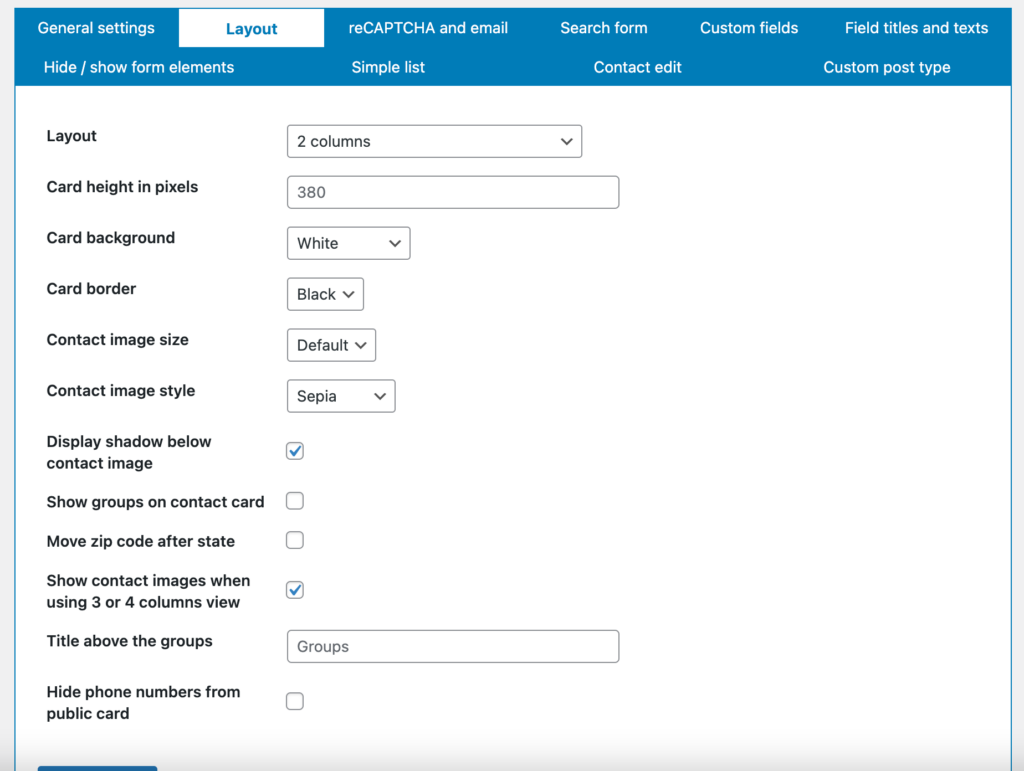 Here you can also configure the search form settings.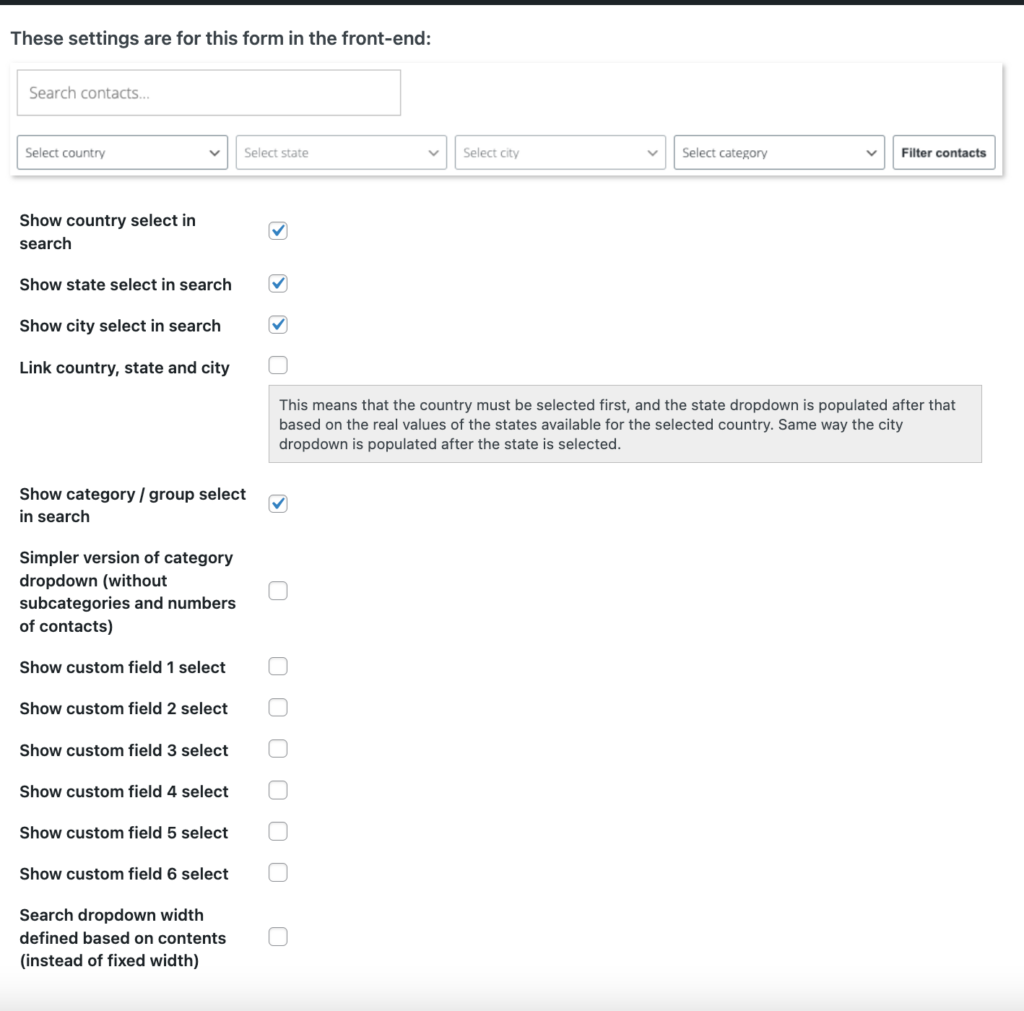 To Wrap Things Up…
Coming to the end of this article we would like to highlight some of the important aspects of why you should build a business contact list on your company's website. So, business contact lists or directories are a central place where you can enter your B2B contacts, group them into different categories for easy search, and keep communicating with them in case of a need. Business contact directories are comfortable not only for organized usage but also for marketing campaigns. All the company's qualified leads are included in these lists. So, it is a matter of a few clicks to start a successful promo action with an all-in-one business contact directory.
For easy operation, WordPress offers a great plugin – Contact List Pro. It contains all the required features to build an easily managed business contact directory. Not only can you include the whole essential information about a certain company but also you may add your preferred information, highlight a description or notes. Moreover, the plugin enables you to categorize the contacts, search for them and find them quickly.
So, if you have business and B2B partners then it is highly recommended to add a business contact list to your website with the help of the suggested contact management tool – Contact List Pro plugin.