How to Create a Phonebook in WordPress?
You can easily create a phonebook in WordPress following these steps:
Install it on your WordPress site
Add some contacts with phone numbers from the contact management
Add the shortcode [contact_list_simple] to any page on your site
Your phonebook is ready, in its simplest form
Being at the head of an expanded business with numerous employers and customers it might seem hard to keep at hand contact with each and every one. This is true for individuals as well. Everyone at least once has encountered a situation where he couldn't find the phone contact he wanted. That's why phone directories started their existence alongside the invention of the telephone.
However, as far as technological improvements affect every aspect of our life it didn't bypass telephone directories. Nowadays, phone directories are not what we had 10 or 15 years ago. You no longer need to dig through a paper-based directory to find a phone number. Phone numbers are now available in just a few clicks.
Are you inspired by the simplicity and power of online-based phone directories?
Yes? Then let's dig down and see how to create a phone book in WordPress using a powerful and feature-rich WordPress plugin – Contact List.
What Is a Phone Directory?
In a nutshell, a phone directory, also known as a telephone address book or phone book, is a list of phone contacts, such as resident phone directories or Yellow Pages providing contacts of job entries.
A simple phonebook is more likely to have a simpler design and shortage of information (e.g. name, phone number, job title, etc.). At the same time, Yellow Pages include more information and sophisticated design, as far as they are targeting advertisements.
In any case, paper-based phonebooks have already lived their life, so online phonebook directories are here to stay!
What Your Phone Directory Should Include?
The biggest advantage of online-based phonebooks is that you can add any information you want at any time, as well as remove or edit the information. Well, however, there are some things that are must to include in the phonebook.
A well-organized phonebook would provide:
Listing name
Phone numbers
Description
Address
In addition to the above mentioned, you can make your phone directory more informative by including photographs or any other attachments that are relevant to your site. The most important advantage of an online contact directory is its flexibility.
Best Tool to Make Phonebook on WordPress
Mainly there are two paths to follow if you want to add a phonebook to a WordPress website.
Firstly, you can handle it right with the WordPress codebase. WordPress is a clearly structured open-source web platform, and you can do pretty much there with coding. With a little coding and WordPress development skills and you can build your own phonebook right inside WordPress.
However, this way of building a phone directory might require a lot of expertise, as well as time and money. Thus, this is not the best path for you to follow especially if you are not tech-geek. Rather you can make use of a dedicated WordPress plugin to facilitate the process for you.
An Introductory View on the Contact List Pro

Contact List Pro is a simple and easy-to-use WordPress plugin to add numerous types of directories to your website, including a phone directory.
Contact list comes in a free and pro version and offers a lot of flexibility in creating directories to your heart and taste.
What about the features it offers?
Grouping contacts into groups based on tags and categories.
Unique and individual pages for every contact.
Spam protection with obfuscated email addresses.
Easy insertion of a contact directory on a website using numerous shortcodes.
Quick and accurate contact search functionality with various filters.
Surely this plugin is the best solution that will assist you in creating a contact directory in WordPress. We'll show you how to handle it throughout the rest of the post.
How to Create a Contact Directory in WordPress Using Contact List Pro
So let's get down and see how Contact List Pro will help you to build a phonebook on your WordPress website.
1. Install and Activate the Plugin
The installation and activation procedure will differ based on whether you use Contact List Pro's free or premium edition.
To install the free version of Contact List simply head to Plugins > Add New. Search for "Contact List" find the plugin in the list and click 'Install", then the "Activate" button right next to the plugin.

When you purchase the premium edition of Contact List Pro, you will receive a ZIP file containing the plugin. Return to the Plugins > Add New screen in WordPress, but this time, click the "Upload Plugin" button at the top of the screen.
With the next step upload a ZIP file of Contact List Pro on the dedicated field and click "Install".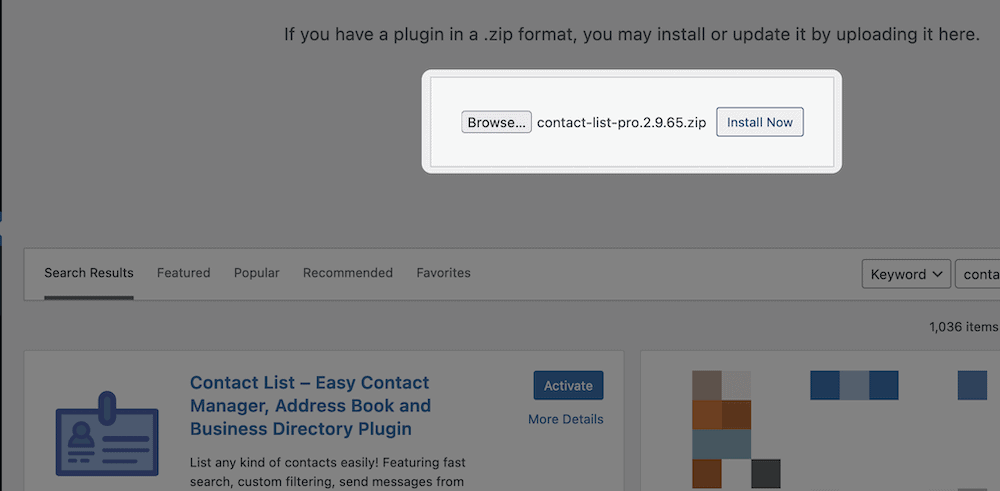 That's it! You have your Contact List plugin installed and activated on your WordPress website. So it's high time to start comprising your contact list for the phonebook.
2. Add Phonebook Contacts
The most important procedure in creating a WordPress phone directory is adding or inserting contacts into the website.
With the Contact List plugin there are 3 ways you can follow to comprise your contact list.
First, you can manually add contacts from the Contact List Dashboard.
Head to "Contact List" from your Admin dashboard.
Choose "All Contacts"
Click the "Add New" button
The next method of populating your phonebook is by importing a ready-made CSV contact list. You can import your CSV list of contacts from the Contact List > Import Contacts screen.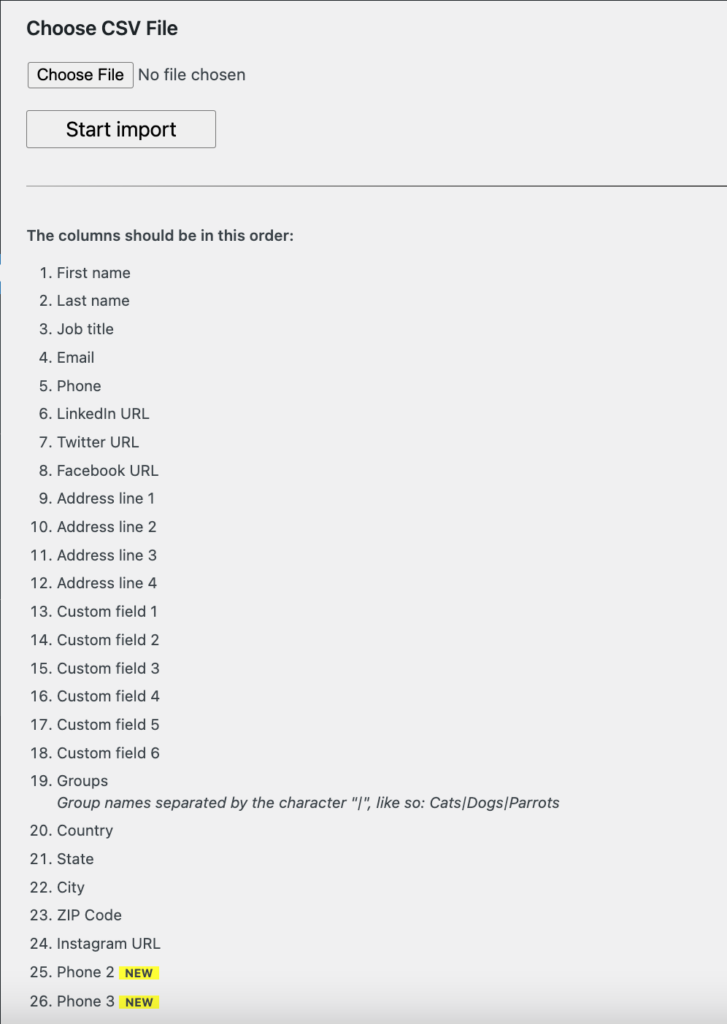 You may also use Contact List Pro's built-in form capabilities to automate this to some level. You may use the [contact list form] shortcode to display a front-end form where visitors can add their contact information.
Furthermore, you can customize the contact submission form to suit your needs. To control which fields appear on your form, navigate to the Contact List > Settings > Hide/Show Form Elements screen. You can choose which fields to display on the public form and which ones are optional and which are required to fill in.

Following one of the above-mentioned ways of adding contacts to your phonebook you are already halfway through creating a phone directory. Your next step is to display those contacts on the website.
3. Displaying Phonebook on the Website
You can show your phone directory practically anywhere on your site thanks to Contact List Pro's wide range of shortcodes. This means you may add your phonebook to an existing WordPress post, or page or create a new one. Everything is in your hands!
To add the phone book via shortcode, head to the post or page you want your directory to be displayed on and insert the [contact_list_simple] shortcode on the edit screen.
Once done save your modifications and go back to the front end, you'll already find your phonebook with added contacts ready there.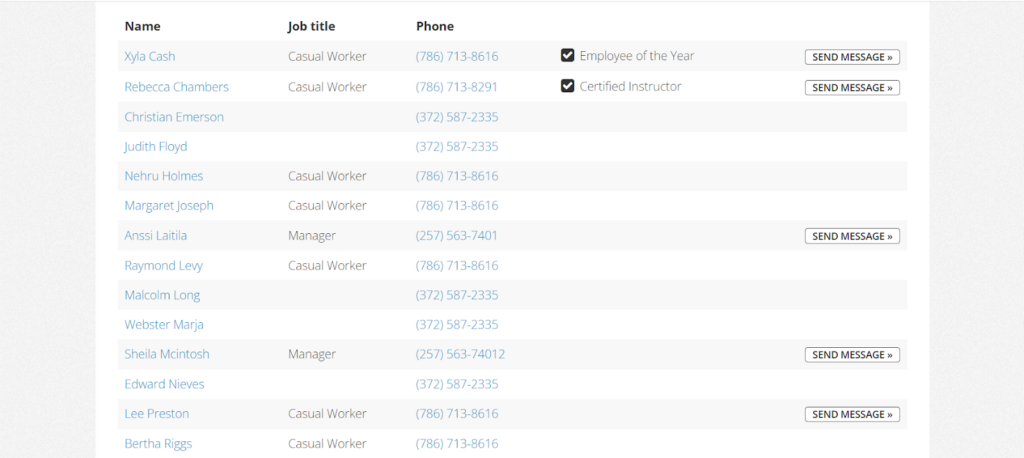 However, you have a lot of flexibility in changing how your phonebook looks. If you check again at the Contact List > Shortcodes tab, you'll notice a plethora of other parameters you can utilize.

There are numerous customization options via shortcodes available to assist you in organizing your contact list. You can, for example, sort by forename or surname, or use a variety of column layouts, backgrounds, and color schemes for card borders, image filters, and many more.
Wrap-Up
Nowadays thanks to technological advancements phone directories have become something easy to build, organize, edit, and share with others. Having a list of contacts stored somewhere accessible is a must for anyone, from an individual to an entrepreneur.
We strongly believe, that regardless of your phonebook size, the Contact List Pro plugin is the best WordPress directory plugin for you to comprise and add a phonebook to your website without additional effort and time.