How to create an address book in WordPress
You can easily create an adress book in WordPress following these steps:
Install it on your WordPress site
Add some contacts with addresses from the contact management
Add the shortcode [contact_list] to any page on your site
Your address book is ready, in it's simplest form
Contact management
After installing the plugin, you'll find the contact management on All Contacts -page, under Contact List in the WordPress admin area. You can add as many contacts as you want by clicking the Add New -button.
Screenshot 1: contact management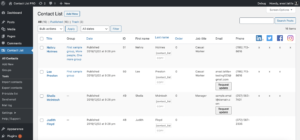 Editing contacts
From contact management, you can open a contact for editing by clicking the contact's name. Then the following view will be opened:
Screenshot 2: edit a contact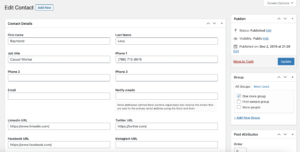 You can fill in the data that is essential for you (there are more fields below). Only the last name -field is mandatory. After you publish the contact, the data will be publicly listed on your site.
Adding the address book on a page
After you have added the necessary contact and their address data, you can add the shortcode [contact_list] to the editor of any page or post. When you open the page after saving, the address book is there.