How to Create an Address Book in WordPress
You can easily create an adress book in WordPress following these steps:
Install it on your WordPress site
Add some contacts with addresses from the contact management
Add the shortcode [contact_list] to any page on your site
Your address book is ready, in it's simplest form
Are you seeking modern ways to manage your website contact base? Then you should go with an address book. Well, not the tangible one, of course… but rather a plugin that will operate on your WordPress website and help you gather and store contacts successfully. If this is a challenge you are facing now, then read this article till the end to find the answers to your concerns. Once you are finished, you will know what an address book is and why it is important. We will also go over some user cases or why you need to have an address book on your site. In the end, you will learn about the best tool that guarantees a seamless experience and will get a quick tutorial on how to run an address book on your WordPress.
What is an Address Book Plugin?
The address book plugin is the key to enriching the contact base. It is a feature that allows business owners to gather, manage, and store information about individuals, entities, their customers, and website visitors. Address book enables its users to have important data, such as names, email addresses, phone numbers, and some other optional information organized and on hand for further usage. Using address books, business owners or entrepreneurs can significantly boost their lead generation practices.
Why Do You Need an Address Book on WordPress?
Now that we know what an address book is, here are several cases when businesses do need to have it on their websites:
Organizing contacts:

Address books are an important management tool that allows you to have all the names and contact details in just one place. It contributes to easy navigation and time-saving, letting businesses concentrate on more strategic tasks rather than on minutiae.

Efficient communication:

Having an organized contact base with the names and respective contact details allows users to navigate through it quickly and reach out to the necessary recipient(s).

Personalization:

Address books can include any important, as well as additional information about your customers. This will let you customize your emails or other forms of communication for your recipients based on the information available about them.

Bulk communication:

Bulk communication refers to any type of major communication that includes a wide range of people. Newsletters are considered bulk communication, and having an address book will make this process a breeze.

Marketing Segmentation:

Segmentation is an important factor in marketing. It allows you to group your customers and keep the communication between you specific to it. Address books that include additional information about your customers (identity, age, country, job, profession, company, etc.), will let you combine people with similar preferences.

Improved data management:

As already mentioned, address books are also an important management tool. With improved data management, address books reduce the risks of losing important contacts.

Security and privacy:

Using address books and not letting your data on random spreadsheets will ensure that your data is protected and secure.
What is the Best Address Book Plugin?
With so many contact manager plugins available on the market, you might wonder which one is the best so far. Contact List PRO by Tammersoft is an all-in-one plugin that will make this whole process for you a breeze. After testing all the features that the other plugins have separately, we have finally created the one that includes all of their features and allows you to manage contact bases in just one platform and dashboard. Let's explore some of the key features that our Contact List PRO has got you covered with:
User-friendly interface:

Your changes, customizations, and management are just a couple of clicks away with Contact List PRO. With its intuitive and easy-to-use dashboard, it is accessible to anyone: whether you are a newbie or an expert, you will handle it.

Front-end contact editor:

When setting the user roles, you can enable the front-end contact editor for some roles. With this feature, they will be able to send update requests to the admin.

Easy contact search:

Besides being an efficient address book plugin, Contact List PRO is also a good management tool. It allows its users to set filters to find the right contact in just one click.

Pagination support:

For organizing even bigger quantities of contact bases on different pages, Contact List PRO has the pagination feature.

2 directory views:

Contact List PRO is flexible in terms of contact base preview. It allows you to either view the comprehensive contact information or use the simple table view option.

Printable contact list:

If you want to print your contacts out right away, this plugin has got you covered. With no need to download or export the files, you can print them any time you wish.

Multipurpose shortcodes:

You can insert the shortcodes into your WordPress website's posts and pages and enjoy your address books without having any coding knowledge.

Contact data import and export։

You can make contact management quick with Contact List PRO by building databases that are accessible for exporting them in CSV format.

Connection via email:

You can directly reach out to all the existing contacts or to the specific group right from the front end and with ready-made forms. You can also avoid your messages getting into spam through reCaptchas.

Contact categories: To make the user experience even better, you can create categories for collecting the data either in small or big groups.
Contact submissions with forms:

You can insert contact submission forms into the contact list's page, enriching your contact base by boosting contact submissions.

Flexible pricing plans: Contact List PRO has 4 pricing plans, free, personal, professional, and business. Each of the plans has reasonable prices based on the number and the quality of the features they offer.
How to Create an Address Book on WordPress?
The Contact List plugin by Tammersoft allows you to build eye-catching address books on WordPress. Contact List PRO had made the creation process as easy as ABC.
You can quickly create an online address book on WordPress by following these steps:
Download the free version of Contact List
Install it on your WordPress site
Add some contacts with addresses from the contact management
Add the shortcode [contact_list] to any page on your site
And that's it: your WordPress address book is ready, in its simplest form!
Contact Management
After installing the plugin, you will find the contact management on the "All Contacts" page, under Contact List in the WordPress admin dashboard area.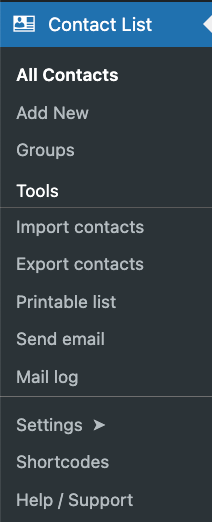 You can add as many contacts as you want by clicking the "Add New" button.
Screenshot 1: Contact Management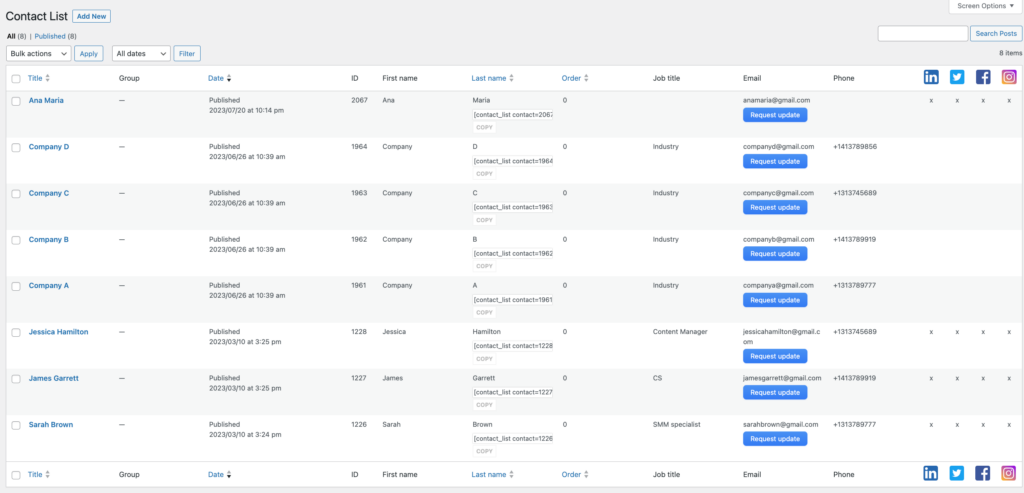 Adding New Contacts
You can easily add a new contact in your address book including all the necessary contact information, as well as the person's photo.
Screenshot 2: Add a New Contact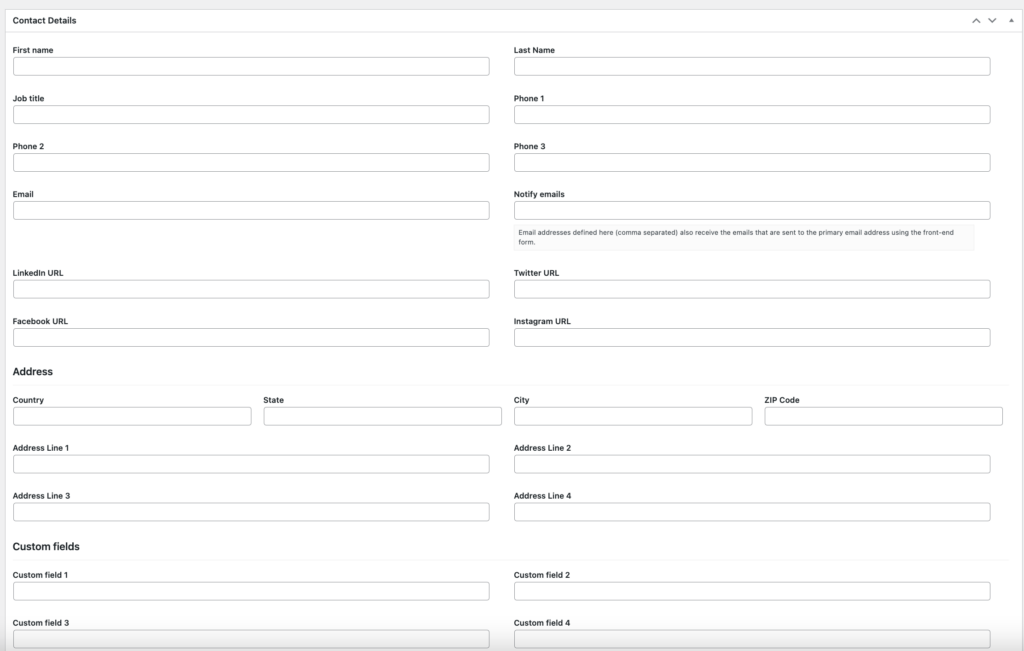 Here are all the necessary fields to fill in when creating a contact for your address book. This includes:
First and last names
Job title (if applicable)
3 options for a phone number
1 initial email address and 1 for sending notification
Social Media links for Facebook, Twitter, Linkedin, and Instagram
Address including the country, state, city, and zip code
6 custom fields to add data you want
You can fill in the data that is essential for you (there are more fields below). Only the "Last name" field is mandatory. After you publish the contact, the data will be publicly listed on your site.
Adding the Address Book on a Page
After you have added the necessary contact with the whole data you want to showcase in your address book, you can add the shortcode [contact_list] to the editor of any currently existing or new page and post. When you open the page after saving, the address book will be there.
Wrapping Up
Having a reliable contact manager and address book plugin will help you save time and concentrate on more strategic aspects of your business. You can take advantage of address books in many aspects. First, it is very handy to use. It is a centralized place where the whole contact information is collected in an organized way. Next, online address books are highly editable to keep the contacts always up-to-date. Moreover, address books help to build email lists easily and quickly and avoid losing important information.
For building a fascinating and comprehensive address book, we have offered you a highly functional WordPress plugin – Contact List. With its free and paid versions, the plugin will provide the best user experience during the address book creation process.
You can do your one-time customizations regarding the form field requirements and user roles, and Contact List PRO will take care of the rest. If you want to take your business to the next level, try to make good use of each of the features that you are given. Use the categorization, filtering, and segmentation features to ensure to-the-point communication. Contact List PRO is more than just a contact-based plugin, offering tools that go out of the boundaries. It has some cool features and tools, leveraging which can improve your business practices.