Contact List Pro – Quick & Accessible Staff Directory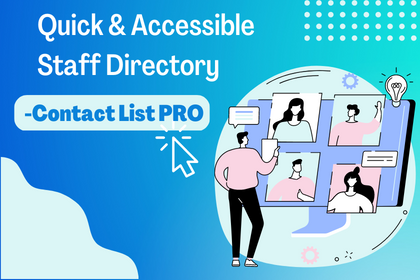 Christian Emerson owns and operates a huge marketing agency that provides various digital marketing services across the world.
The company size operated by Christian involves from 50 to 100 staff members. Managing this big and expended staff information can surely be daunting and time-consuming from time to time.
Though operating in the niche of digital marketing for already 5 years and providing excellent results, Christian, as a CEO, constantly finds himself facing a problem a lack of trust in his staff embers/specialists from the consumers.
To give an end to the vicious circle where the lack of trust raises problems, and holds back potential customers, Christian decided to create a staff directory for his website to properly introduce the customers to whom they are trusting their product/service marketing.
After going back and forth through the huge list of WordPress directory plugins, Christian finally found the one that was the perfect WP staff list plugin for creating any kind of member directory.
Within a short period of time, Christian created and introduced in the front end a huge list of his company staff, with all the necessary information. What did he use? – The Contact List Pro plugin.
Why Christian Considered Adding Employee Directory?
The reasons Christian considered adding a staff directory using the Contact List Pro plugin were numerous. A staff directory could not only replace or serve as an alternative to the hard copy but could also offer many other benefits. For instance, compared to hard copy it is almost impossible to lose a plugin-created staff directory.
Some reasons why Christian considered using a functional WordPress staff directory plugin – Contact List Pro, include:
Christian first used the plugin to create a staff directory to help customers or clients build a connection with his huge team and employees, which is very important for an online business, especially for one specializing in the niche of marketing;
He aimed to build trust and earn credibility with his growing business;
Having a staff directory would be helpful as well since he could access all staff information in one place;
He discovered that updating information or making changes on an online directory was far simpler and faster than doing it on a hard copy or even an excel file;
Christian believed that an employee directory would make it very simple to keep business things organized and at hand;
Using the contact directory plugin Christian could add or remove information fields at any time, allowing full control over what information he wanted to share about his staff with changing requirements of his business;
The Contact List Pro plugin has search functionality within the created staff directory, this would enable Christian to allow clients and other staff members to find any information they want quickly and conveniently.
What is the Contact List Pro Plugin for?

Contact List Pro is a dedicated plugin to manage and create contacts, address books, and business directories right inside WordPress without any bells and whistles.
An easy way to list contacts on a WordPress site.
Send emails directly to contacts from the front-end form.
Contact database built with publicly available form or by importing from a CSV file.
CSV Import & Export and more.
So, the Contact List plugin was the best solution for Christian to comprise and build a company directory with ease. With this business directory plugin, he was able to list any contact data including i.e. name, contact info, and social media links. This is not all, there are more fields that can be added to the contact directory using the Contact List plugin.
First/last name
Job title
Email
Phone
LinkedIn, Twitter, Facebok URLs
Address (including country, state, and city in separate fields)
Custom fields
Category
Photo/image
Multiple custom fields
It's super crucial for a contact directory plugin to have the option to add new fields or delete certain ones. This provides a great deal of versatility if one wants to show off information about employees beyond the bare minimum of first name, last name, and email.
The advantage of a staff directory on your WordPress website with the Contact List is that using this plugin Christian could let other users search for any user or information about a particular set of users easily.
Main Features
Contact List Pro is a brilliant plugin with numerous features which greatly facilitated staff management for Christian. The best part of it was that some of the most crucial features were available in the free version of Contact List.
Send Emails
The Contact List plugin allows sending of emails directly to contacts using a built-in form on the front-end. This feature came in handy for Christian, as it allowed him to provide client and specialist direct communication without additional add-ons and efforts. So clients and customers can immediately get in touch with the staff member they want to via email.
Most importantly, the plugin still allowed Christian to keep staff contact info confidential. The contact's email address can be completely obscured, to prevent email spam, but still, email can be sent to the contact.
Various Contact Views
Contact List offers two views: a comprehensive list of all contact information and a simpler table view.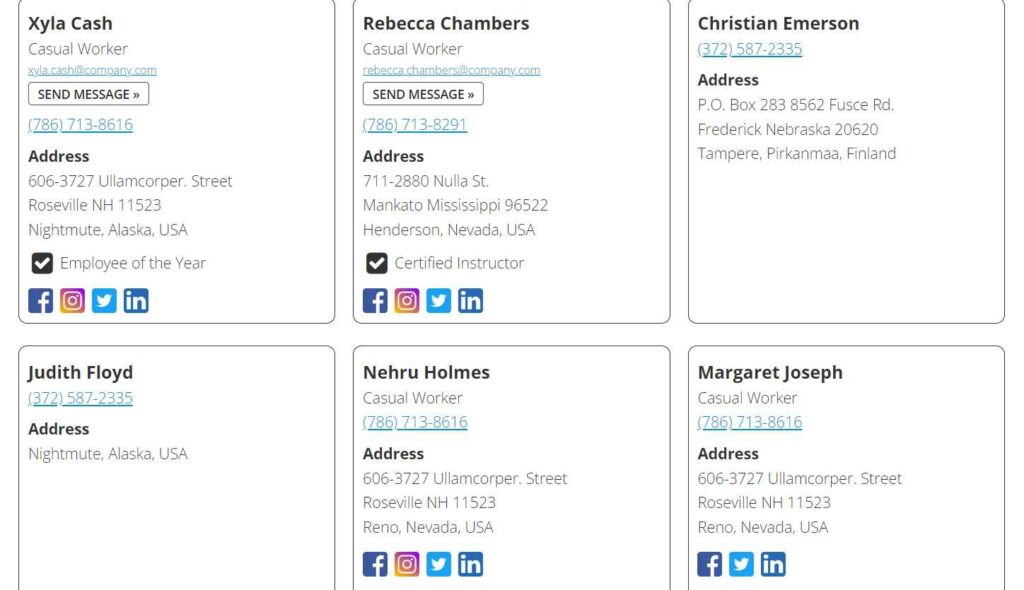 Group Contacts
With Contact List Christian was able to easily group and categorize staff members into small or big groups in order to further facilitate the search process both for him and his customers.
Contact Filters
The Contact List plugin allowed Christia to set comprehensive filters on the contact directory: such as filter contacts by country, state, city, and category. and what's more, country and state dropdowns were generated automatically from contact data, which further fastened and facilitated the process for Christian.
Alongside this, there can be more filters added to the directory based on the needs and preferences.
Various Layouts
With the right WordPress staff directory plugin, such as Contact List, Christian could also control how the directory looked and functioned. He could set the number of users per page, the sorting criteria and order, and other display options.
As well as, he could choose among 4 different contact directory layouts.
Pro Features
The above-mentioned were not all the functions and highlights used by Christian. As he was looking for the best solution for creating a staff directory he upgraded to the Contact List Pro to get more out of his experience.
Front-end Contact Editor
For the credibility of the information, and for keeping personal confidential rights, Christian allowed user roles to edit contacts from the front end. Furthermore, he could request contacts to update their info with a single click of a button.
Contact Search
To allow finding specialists easily and quickly Christian enabled showing contacts in site search results, except for the contacts directory page.
Various Views
The Contact List Pro plugin provided Christian with all the necessary shortcodes to try out different views and see which one worked out well.
More Filters
As far as Christian's company was rather big he wanted t add more filters, he could easily handle it, by using the custom fields as filters.
Easy Import/Export
Christian was able to easily import his previously made contacts list to set up a staff directory, plus he could also export the list with a CSV file, and keep it on his computer in case of any trouble.
Pricing
Christian was fully protected by a 100% Money Back Guarantee, plus he had a 7-day free trial of the Contact List Pro plugin. That's why he upgraded the plugin without a single hesitation, and it turned out to be a really good decision.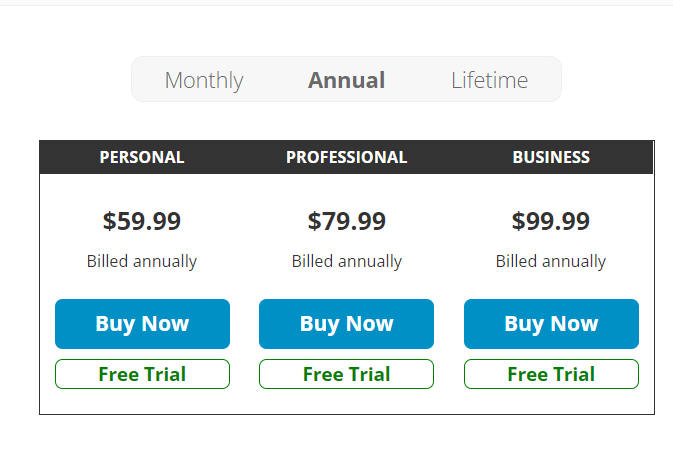 Contact List offered various pricing plans so there were a lot of choices for Christian, he could consider his needs, preferences, and budget. And at the end he stayed on annual plans, starting from $59.99 as he was sure that the plugin will be a good fit for his website and business.
The Pro plan also included the following:
Role-based front-end contact editor.
Show a simple list of contacts in a lightbox.
Separate pages for single contacts.
Show contacts in site search results.
More shortcodes and parameters.
More settings.
Wrapping Up
Being the head of a huge business that is moving towards success, and is expanding day by day, it is very hard to keep track of every single aspect of your business and website.
Before getting to know about the Contact List plugin Christian was in confusion, being the head of a huge company he wanted to set positive interactions between his staff and clients, improve user experience and stay organized in his work. As soon as he got the Contact List Pro plugin all his problems vanished.
Using the Contact list plugin Christian increased customer trust, allowed easy and quick customer and specialist interaction, and stayed organized in managing his staff contacts.