5 Best Business Directory Themes for WordPress | 2023
You can still find directory websites on the web. This is because people highly benefit from searching and navigating the needed information from such directory websites, as Yelp or Google My Business. They help users decide on a choice of a certain product or service easily. On the other hand, having a single directory website will assist you to send good traffic to your business site which in its turn will certainly increase your company's brand awareness, sales, and revenue.
Business directories are a unique type of resource center and advertising center at the same time. And when it comes to creating a business directory website then the ideal platform to choose for this action is WordPress. Not only it stands out with its default features but it also offers a wide range of directory themes and contact list plugins to make the process simpler and quicker. So, in this article, we are about to introduce you to the 5 best business directory themes for WordPress.
How to Choose a Good Business Directory Theme for WordPress?
Be it a Business Directory plugin or a theme there are some aspects to take into account when choosing a WordPress product.
Compatibility
So, one of the most essential factors is compatibility. In fact, there should be no compatibility issues when using a WordPress directory theme as it mostly covers all the needed features to build an excellent listing. Mostly, the directory themes come up with a few simple features that do not generate compatibility issues. However, you need to carefully update the theme with its latest version, as well as choose themes from a reliable source to not cause such issues.
Update Steps
Updating your WordPress directory theme has a great impact on your website performance. Luckily, these themes offer a one-click update option that will keep your website always fresh.
Pricing
It is obvious that business directory themes are very effective. This is because when buying a contact manager or directory plugin you will need to buy a separate theme for your WordPress site, too. Yet, activating a business directory theme enables you to have both the theme and the needed listing features simultaneously.
The theme prices vary based on the included features and settings.
Business Directory Flexibility and Design
It is always important to get a flexible theme in order to transform the built-in features to match your brand voice. On the other hand, pre-designed options, layouts, and pages are too helpful to build your directory website in a hassle-free way.
Ease of Use
A great thing about the built-in business directory themes is that they do not require you to have programming skills to utilize the available features. They are very easy to use offering admin options for full functional listing websites. However, the complexity of directory themes depends on the available features and internal options.
5 Best Business Directory Themes for WordPress
So, let's use the knowledge we have already gained on how to reveal a good business directory theme for WordPress. Now, it is time to know which tools we find helpful enough to include in this guide for 2023.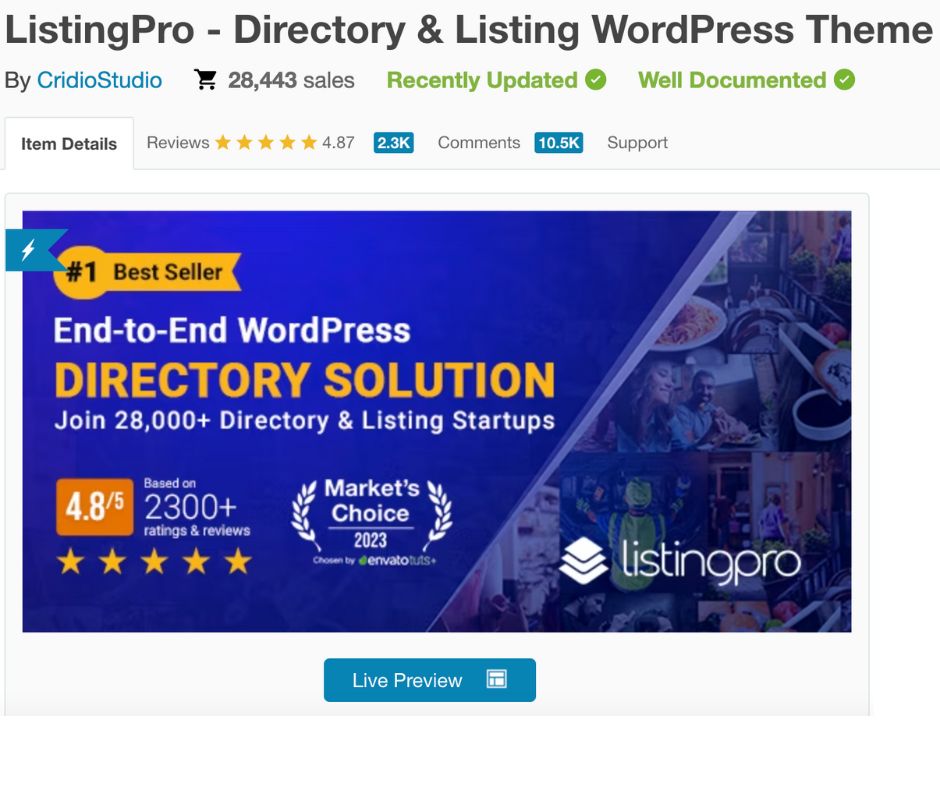 The ListingPro theme has been developed by the Envato Market's Elite author – CridioStudio. It is a great end-to-end directory theme that has won first place among the 2023s bestseller themes. Over 28,000 directory websites and startups have already used this theme which has seamless business directory features and the possibility to view more than 10 niche demos before utilizing ListingPro.
One of the most engaging factors about this theme is that it is very quick and simple to set up. Besides, you are able to automate the directory website creation steps in order to get rid of human-made errors. There are two separate Dashboards within the theme:
Admin Dashboard
User Dashboard
In order to provide easy navigation for users the theme offers a good feature called IntelliSense. The latter is based on the search system of the archived files. Due to the theme's smart technology, you are able to get automatic suggestions and auto locations with GPS/IP.
In addition, a solid number of filters such as custom fields, categories, prices, amenities, distance radius, etc., help business owners make organized business directory websites.
The theme is available both in free and paid versions. The Pro version pricing is as follows:
Basic – $20.5 per month
Professional – $26.25 per month
The next easy-to-use business directory theme for WordPress is PremiumPress. For now, it has won the hearts of more than 65,000 users across the web scoring 100,000+ installations.
Once users activate the theme their website will get the same look as the theme's demo version. To get a unique business directory website, each user is able to customize the theme's features from the Admin dashboard. Offering a centralized control system this theme is highly beginner-friendly.
The WordPress Directory by PremiumPress includes:
More than 150 design blocks
Additional components such as pricing tables, upgrades, or memberships
Search options with advanced AJAX options and custom filters
Media galleries, YouTube, and Music
Comments, ratings, and feedback system
This theme is highly compatible with one of the most popular WordPress page builders – Elementor.
For more advanced users, the theme provides all codes for customizations.
To get the theme you need to choose one of the Pro packages at this pricing:
User License – $99
Extended License – $299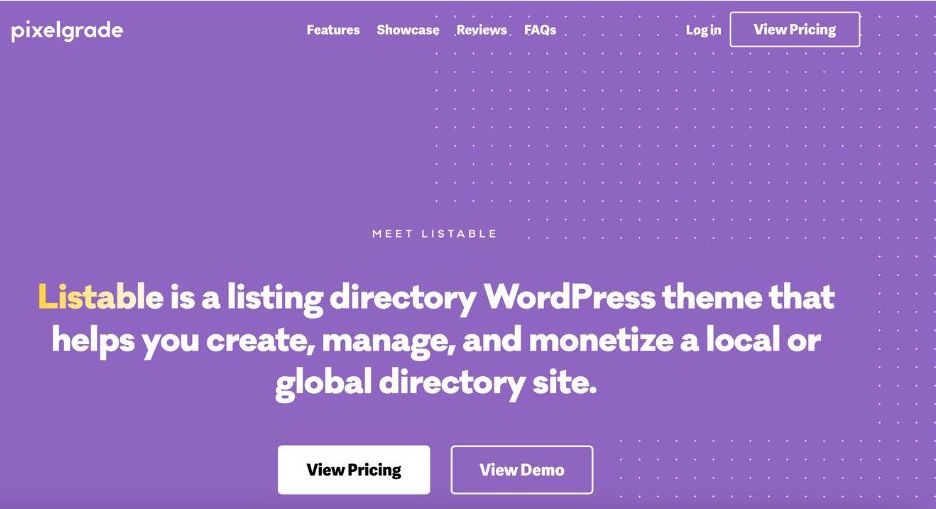 In the third place of our best directory themes' the listing is Listable. It is a great variant to not only create and manage a listing website but also monetize it for local and global markets.
The theme's interface is quite simple. Yet, it provides powerful features you need to set up your own listing card system. The theme is multipurpose. So, no matter what type of listing you want to build on WordPress, you can get perfect use of the Listable theme.
Moreover, the theme enables you to monetize your listing website with various strategies, such as:
Charging for listing submissions
Reservation and service fees
These are just a few examples. In fact, there are different other monetization strategies you can put into action while using this theme. So, you name it…
To make the user experience even better the theme offers advanced filtering options with multiple and interactive filtering features.
And what is more important, all the styles available in this theme are highly customizable with unique style presets, fonts, and colors. It is not required to have coding or other technical skills.
This all-in-one theme offers 3 paid plans:
Listable on a roll – $85
Listable for life – $105
Themes bundle – $498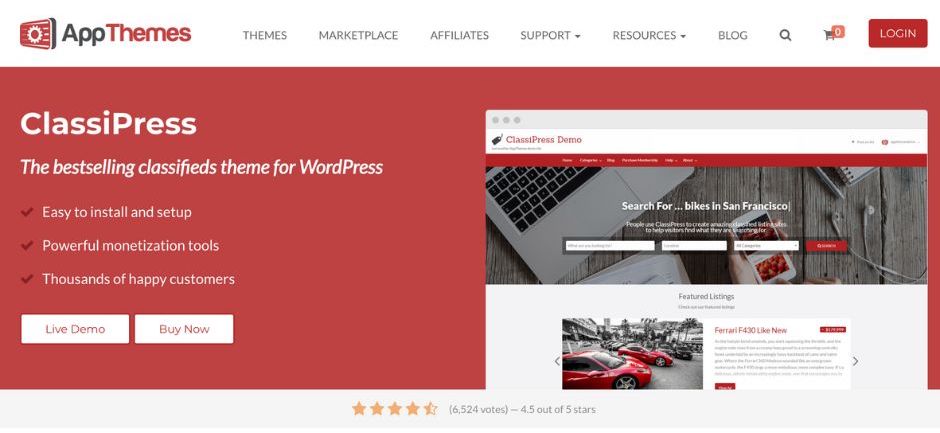 Another bestselling directory theme recommended by a big number of WordPress users is ClassiPress. Being easily installed and set up, this theme offers a wide variety of features, including:
Powerful Monetization
Pricing Models
Custom fields and forms
Color and font customization
Membership packages
Featured Classifieds listings
Customer Ad management
The features are not limited to the listed ones. The ClassiPress theme eases the listing search process enabling the users to search with the location data. It also includes an AJAX search with suggestions.
Besides, the theme's front page is totally customizable. Prioritizing the necessity of Social Networks, the theme is highly compatible with Social Networks. Moreover, the theme's developers went further to enable users to build a more engaging website. This is through the dedicated blog that is included in the theme's ready-made features.
There are two paid plans you may choose to activate the ClassiPress theme:
Standard – $69
Club – $199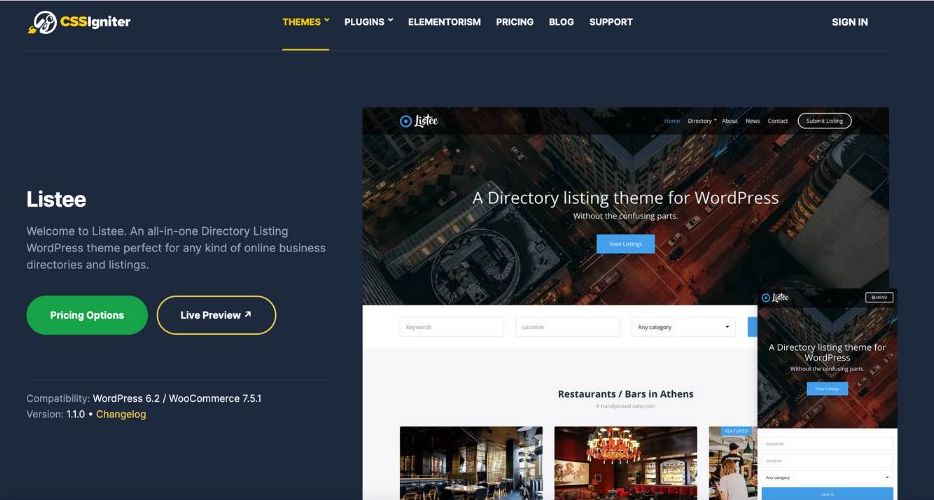 Last but not least theme for building any type of business directory website is Listee. It is highly compatible both with WordPress and the well-known e-commerce plugin- WooCommerce.
There are a lot of personalization features available in the Listee theme. This refers to flexible headers which give the users ability to change color schemes, fonts, layouts, and make some logo adjustments. Not only can headers be customized but also the footers with lots of elements that you would like to implement on your website.
The website creation process is even smoother with the availability of the GutenBee custom blocks collection. The available blocks help to make your business directory website structure more simply.
A big part of WordPress users prefer to use Elementor as a page builder. So, the Listee theme is highly compatible with the Elementor Page Builder.
The theme developers tend to help you rank higher on Search Engine. So, the Listee theme offers a great user experience that is one of the most crucial aspects of the Search Engine-optimized WordPress site.
Also, the Listee theme is constantly updated. By activating the theme, you will be able to enjoy a high-class Premium support service if there are any issues related to the theme usage.
Here is the current pricing to activate the Listee theme on your WordPress site:
Listee – $49
Developer Club – $79
Lifetime Club – $249
To Wrap Things Up…
Summing up, we would like to spot that business directory themes are designed to help business owners build fascinating listing websites even without having programming skills.
So, we hope that the list included in this article will help you make a good-looking business directory website for WordPress.