Best WordPress Directory Plugins for 2023
If you want to help visitors look for information on your website with ease then building an online directory can be a great way to move. By saying "information" we consider almost any type of content on your WP site including yellow pages, products, files, documents, users' databases, etc. This means that a well-structured directory can help you sort information and make it highly browsable. By default, WordPress creates its own directory to store all the files. Yet, to create other more personalized directories, you can take advantage of various plugins on this platform. Choosing the right plugin is not a very easy job. This is because there are only a few plugins including all the possible features one might seek in a directory plugin. So, we are here to present you the best WordPress Directory Plugins for 2023.
Why Use WordPress Directory Plugin?
WordPress directory plugins are very helpful when implementing a wide variety of directories, such as business and staff directories, various listings, address books, contact lists, etc. on your site. They add a big range of important features to enhance your WordPress site's default options. Also, one of the reasons why you must use the WordPress directory plugin is that it eases the listing management process, as well as allows users to add as many customizable fields as they need for a certain purpose.
Yet, before choosing one of the existing directory plugins on WordPress, you should think of whether you want a multipurpose or a purpose-designed tool for further operations.
What are the Best WordPress Directory Plugins for 2023?
Before getting started with a WordPress directory plugin you have to clarify what type of directory you want to build on your website. It is for commercial purposes, you want to collect the payments or just gather some details about people. No matter what is your initial intention, you should look at these features in a directory plugin you will want to activate on WordPress:
New listing creation
Editing listings
Features for payment collection
Submissions directly from the front end
Shortcodes for easy operation
Additional fields for customization
Now let's look at the plugins we think are worth being activated and used on your WordPress site.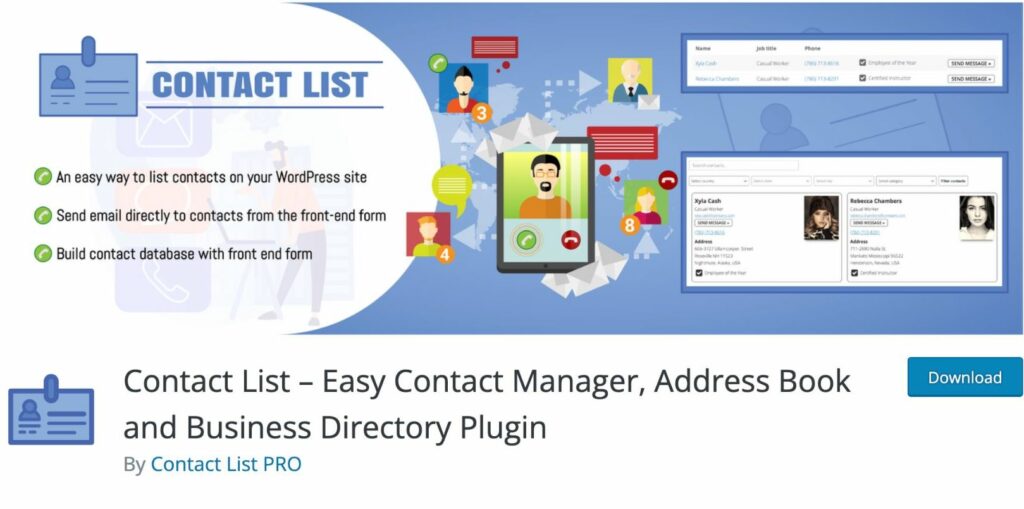 The first tool among the best directory plugins is the Contact list. It is an all-in-one directory and contact manager plugin with which you can easily build an online address book, phone book, yellow page, business directory, staff list, etc.
The key feature of the Contact List plugin is the wide variety of contact listing creation opportunities. Apart from this, the plugin provides direct reach out to the contacts offering the email from the front-end feature.
Implementing contacts as well as exporting them to use on other platforms is a matter of a few clicks. This is possible through the Import/Export feature to the CSV file format.
To do so you should not be a tech-savvy user. This contact manager plugin offers super easy and handy shortcodes to create directories anywhere you want on your WordPress site.
Pricing
The WordPress Contact List plugin is available for free in the WordPress plugin directory. Yet, if you want to take advantage of its advanced features with enhanced chances to build your desired form of directory, then the Pro version is what you need right now. It is available at an affordable price:
Personal – $59.99
Professional – $79.99
Business – $99.99
Activating one of the offered plans enables you to conduct role-based contact modifications directly from the front end. You can always keep your contacts updated by just sending an update request. To have your contact list more organized you can use the pagination option and use multipurpose shortcodes to make the working process quicker and smoother.
Apart from the existing comprehensive fields for contacts, you are able to add 6 custom ones according to your needs.
Also, if you are uncertain whether it is worth activating the Pro version or not you can first try it with a 7-day free trial.
The Contact List Pro plugin includes any feature you want to create an eye-catching and organized directory on WordPress.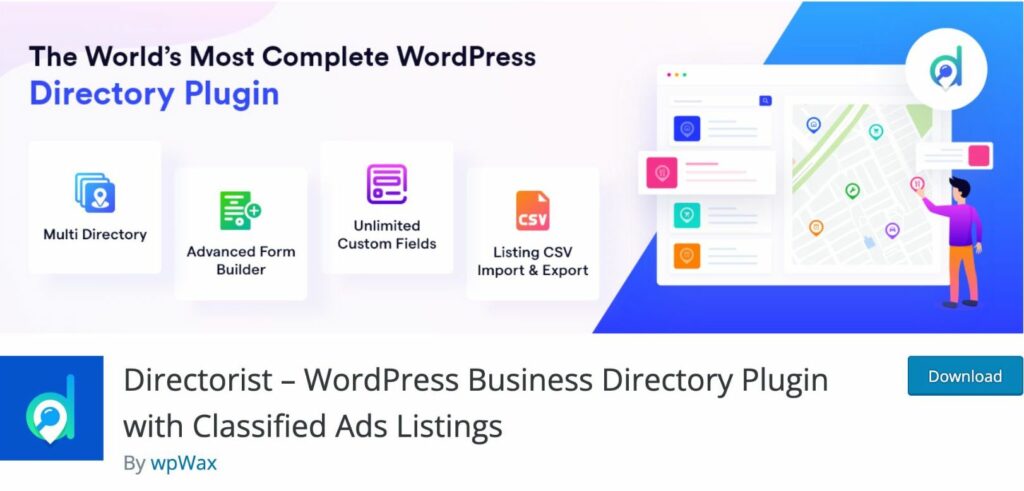 The WordPress Directorist plugin helps to classify business directories and any kind of website. The plugin is multipurpose. So, you can use it for providing community service and a revenue stream. Also, it is a good tool to enhance the existing business or run another business on the platform.
The lists can be created based on different components, such as location, category, etc. And what is more about this plugin, you do not need to write code to create the listings. Transforming your existing website to a directory website is quite easy process. This is possible through the Directorist's compatibility with any WordPress theme.
As for the plugin's main features, it gives a unique opportunity to create multiple directories in a single directory. You have a layout builder in hand with a drag-and-drop feature to enhance the tool's productive usage.
In addition, the plugin is very beginner-friendly without any complications in design and usage. With this highly customizable tool, you can monetize the directory and start earning with it on your site. The booking system and live chat are amazingly handy features to go with.
Pricing
The Directorist plugin is available on WordPress for free. Yet, to use it in its full ratio, you should activate the Pro version:
3 months – $59
6 months – $90
1 year – $129
Lifetime – $714
If there are any issues during the plugin's usage then you can demand a 100% full refund.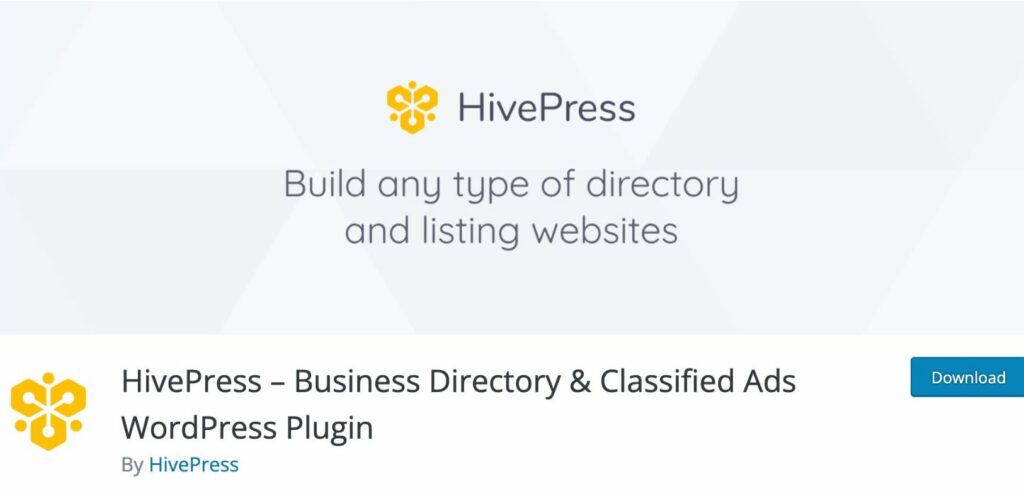 Another advanced tool to build a directory website is HivePress. With this plugin, you can create business and staff directories, job boards, real estate websites, etc.
The plugin offers its users listing categories and filters to simplify the search and sortation process. In addition, you can implement custom fields to a listing form to include the needed additional information lacking in the default form sections. Aside from the filtering options, you can enable a search feature based on the location.
With the HivePress plugin, you can receive valuable feedback from your website visitors in the way of ratings and reviews. The option of private messages will help to keep users in direct communication. For those who want to save a certain listing on your website for viewing it after a while the plugin developers offer a feature of Favoutire Listings.
Finally, a website that you have created with HivePress can not only serve as a comprehensive directory but can also bring some revenue to your business due to the Monetization options.
Pricing
Most part of the plugin's features are available absolutely for free. Yet, if you want to have advanced extensions you can activate them based on your business purposes at this price:
All extensions – $199
If you decide to activate only one of the paid extensions, such as bookings, marketplace, requests, memberships, search alerts, etc. then the price for each item is $39.
In fourth place on our best WordPress directory plugins list is GeoDirectory. This tool enables you to create any type of business directory that is based on location and is highly intuitive. Users who do not have programming skills can also have good use of this plugin. This is through the shortcodes and widgets with which you can set up the directory's blocks with filters in just a few taps and moderate them with ease.
You can use the majority of page builders on WordPress while activating the GeoDirectory plugin as it is highly compatible with Gutenberg, Divi, Oxygen, Elementor, etc.
Pricing
The GeoDirectory plugin is available for free in the WordPress Plugin Directory. Yet, the users are allowed to enhance the plugin's operation by adding some paid add-ons, getting premium support, and new products. All these items are available at this pricing:
4 months – $115
1 year – $229
Lifetime – $1145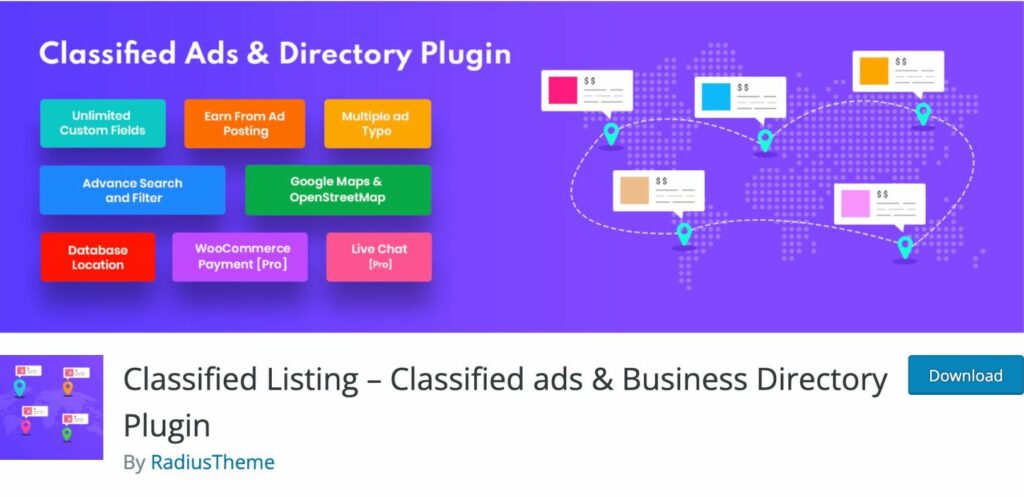 The Classified Listing WordPress plugin gives users the opportunity to create a directory website with advanced fields and features from scratch. The plugin developers provide users with advanced backend admin settings which are always accompanied by the front-end management system for posting.
Unlimited custom fields, business hours in business directories, Social Network URLs and locations, Search filters, payment and monetization options, as well as user-friendly design will make the directory-building process extremely simple to comprehend.
Pricing
Along with the feature-rich free version in the WordPress Plugin Directory, you can find the Classified Listing's Pro version on the plugin's official website:
Personal – $104
Professional – $279
Agency – $419
Conclusion
To wrap things up, we would like to present the above-listed directory plugins in the table to showcase the main pricing differences visually:
| Plugin | Pricing |
| --- | --- |
| Contact List | $59.99 – $99.99 |
| Directorist | $59 – $714 |
| HivePress | $29 – $199 |
| GeoDirectory | $115 – $1145 |
| Classified Listing | $104 – $419 |
No matter which tool from the best WordPress directory plugins you will choose for certain purposes, you should still take into account that directories help to present your business site as more organized, searchable, and sortable.